Technology
The technology has the same result as the conventional method and creates considerably less dust. The sponges can also be recycled up to 8 to à 10 times of use (depending on the nature of the work) with a unit that separates the sponges from small and large waste particles.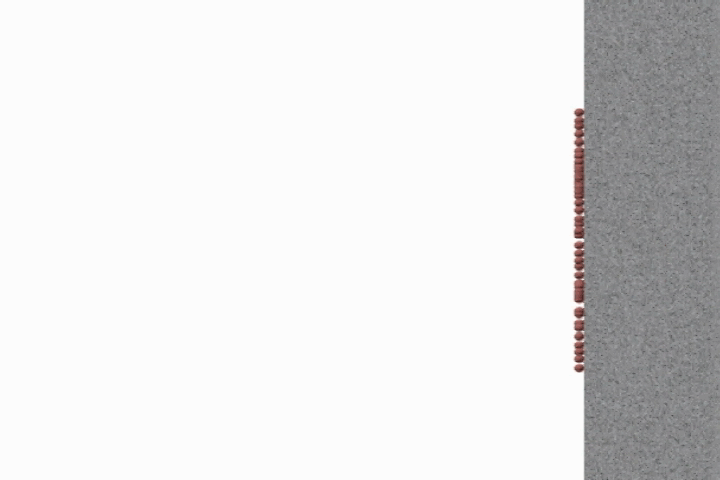 This will reduce costs and the ecological footprint. The sponge blasting method is also advantageous for the blasters themselves since the visibility during the work will increase enormously and the rebound of the blast medium will be limited.
Paper overalls and a cover mask will be sufficient which will make work a lot more pleasant. Because of the lack of dust it will be possible to perform other work simultaneously in the area which will in turn reduce the duration of the work and therefore the downtime of the component or the installation.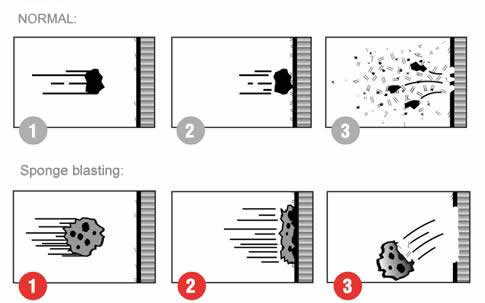 The sponge blasting method can be applied to different jobs because the blasting medium can be matched to the desired results. What is sponge blasting To remove heavy corrosion and to prepare surfaces to a steel cleanliness of SA 2.5 in preparation for coatings, sponges with large aluminium oxide elements are the best medium to obtain a roughness of 100µm.
If you only want to remove several layers of existing paint coatings or only want to renew the top layer, sponges with less abrasive components may be used.
In this manner it is possible to freshen up a painted or coated part without blasting to the bare steel or substrate. Also parts in wood or polyester (shipyards) may be handled in a less complex manner. Sponge blasting may also come in handy to treat façades and concrete surfaces.
Facing bricks that are contaminated from of smoke, exhaust, moss, graffiti, etc. are also easier to clean with the system. The advantage here is that the façade will stay dry and won't be damaged easily during the work (vs. HD-water) and not everything has to be covered and protected from dust.
With Sponsstralen bvba you can buy or rent the sponge blasting equipment for a certain period and you will receive the necessary instructions to use the equipment according to your needs. You may also outsource the work to our teams of experienced professionals. Do not hesitate to contact us for a tailored offer!
Process
At the heart of the Sponsstralen system is Sponge Media. This patented technology combines the capacity of the urethane sponge and cleaning power of conventional abrasives.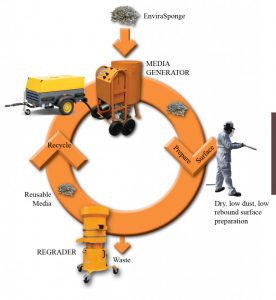 The sponge blast product ensures that parts are not flung around during impact. After impact, the sponge will pull vacuum so that the dust particles will not dissipate in the air but will be attracted to the sponge itself.